Ainara Bordes Perez | Reconciling Open Source with Fundamental Rights of Citizens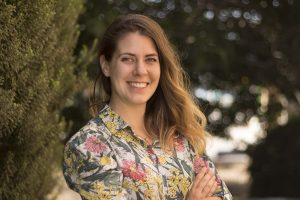 Ainara Bordes Perez | Reconciling Open Source with Fundamental Rights of Citizens
ESR15
EDUCATION: LL.M. University Carlos III, Madrid (Spain); LL.B. (Hons) University of Deusto, Bilbao (Spain).
MAIN INSTITUTION: "Mihai Viteazul" National Intelligence Academy, Bucharest (Romania)
SECONDMENT INSTITUTIONS: University of Malta (Malta)
SUPERVISOR: Prof. Dr. Irena Chiru
CO-SUPERVISOR: Prof. Dr. Joseph Cannataci
Ainara Bordes is a Marie-Skłodowska Curie Early Stage Researcher on the European Joint Doctorate grant "Evolving Security SciencE through Networked Technologies, Information Policy And Law" (ESSENTIAL). Her research area is data protection and especially focuses on the privacy concerns arising from the uses of open-source intelligence (OSINT) by law enforcement authorities and security and intelligence services. Her host institutions are "Mihai Viteazul" National Intelligence Academy (Bucharest) and the University of Malta.
As part of the doctoral studies, Ainara Bordes has supported research for various projects at "Mihai Viteazul" National Intelligence Academy, including for the  Security in the Black Sea Region (SBSR) 2018 conference, a Hybrid Threats project, and for the International Association for Intelligence Education (IAFIE-Europe) 2019 conference. After September 2019 she moved to the University of Malta as part of the dual PhD process, where she has also participated at the second meeting of the H2020 EU project on "Migration-Related Risks caused by misconceptions of Opportunities and Requirements" (MIRROR project).
Prior to starting the PhD, Ainara Bordes worked in different international organisations as a legal advisor, including an internship at the Council of Europe (Strasbourg, France) and in EDIW, a non-governmental organisation based in Brussels (Belgium). Being EU Law and Human Rights her main areas of interest, she has worked in the fields of data protection, privacy and refugee rights in different sectors. Before starting the PhD, she was working as a legal advisor for Red Cross Spain at the asylum seekers' and refugees' program.
Ainara Bordes is an attorney lawyer who holds an LL.M. degree from the University Carlos 3 in Madrid (Spain) and a double Bachelor degree in Law and Communication and Advertising by the University of Deusto and the University of the Basque Country, Bilbao (Spain). During her dual Bachelors, she opted for a year abroad at Aarhus University (Denmark) and a semester at KU Leuven (Belgium).
---
RESEARCH DISSEMINATION
"Unlawful Micro-targeting and disinformation: The GDPR and the need for legal strategies to tackle these threats to democracy", International Studies Association (ISA), 2020 Annual Convention, Honolulu, Hawaii, USA (March 2020)
"OSINT through the lens of Data Protection", ESSENTIAL of Security – Linking Theory and Practice across Disciplines, The Hague, The Netherlands (November 2019)
"OSINT: Privacy dilemmas and current data protection in Europe", International Studies Association (ISA), Toronto, Canada (January 2019)
"The new legal and ethical challenges of the uses of Open Source Intelligence in Europe" – Intelligence and Knowledge Society, Bucharest, Romania (October 2018)
"OSINT: An ambiguous concept in Europe", 2nd Jagiellonian Interdisciplinary Security Conference, Krakow, Poland (September 2018)