Though security is a field of study capable of diverse applications in daily life, security science is a young discipline requiring larger interdisciplinary effort. ESSENTIAL seeks to develop security science by addressing two of its main problems: the ad-hoc approach to security research and the growing complexity of the security environment. To do so, ESSENTIAL has set itself two main goals: a) to train inter-disciplinary security experts and professionals, to tackle security threats in a systematic manner and b) to increase societal resilience and security by addressing in an interdisciplinary manner 15 research topics, each associated with long-standing problems in the field of security science ranging from modeling security perception and democratizing intelligence to improving security and privacy in data ecosystems.
Different topics are being handled by combinations of different partner universities –each topic will require prior knowledge which is indicated in the profile of the Early Stage Researcher (ESR). Check whether you are eligible to apply and which position is most suitable for your qualifications, experience and research ambitions by going through the list of fifteen (15) ESR positions being made available.
Project duration 48 months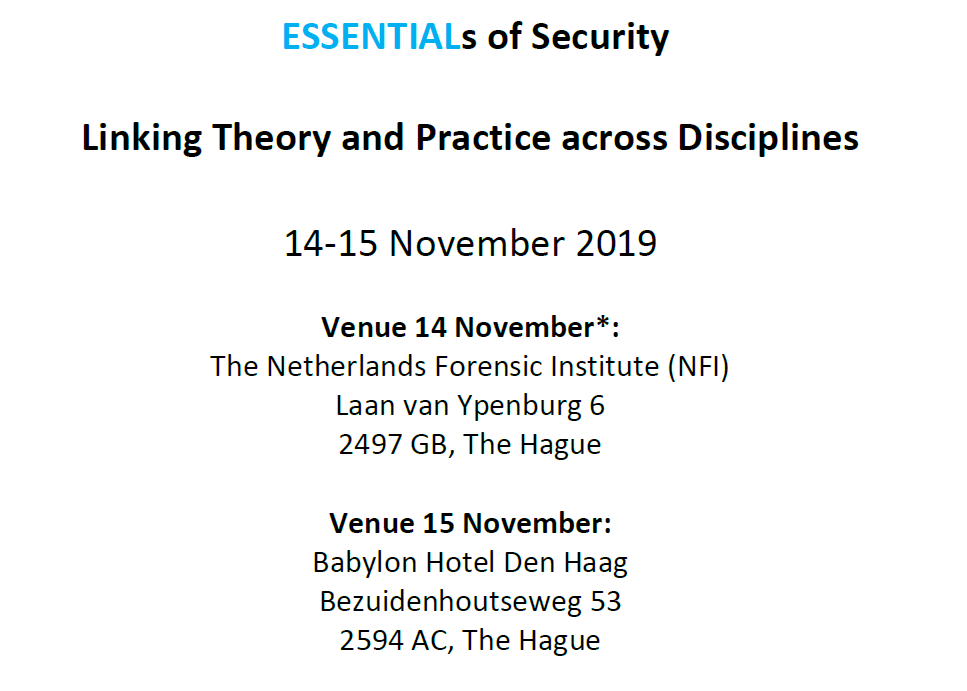 We are pleased to announce the ESSENTIALs of Security Conference, taking place on the 14-15th November 2019, in The Hague, The Netherlands.
The event will consist of each member of the ESSENTIAL team presenting their research, followed by an expert panel discussion on each topic. Please see here for more information.
Following our prior "Save the Date" announcement, we are delighted to now be able to provide more details about the event, including an initial programme (subject to change).
A copy of the current programme can be downloaded here: ESSENTIAL Conference Programme (Final).
* If you are attending on the 14th November, please be aware that a valid piece of ID (either passport or ID card) will be required for entrance to the building.
If you are interested in attending, or would like to know more about the event, please do not hesitate to contact Bettina Zijlstra.
Security science and legal issues
https://www.essentialresearch.eu