Agnes E. Venema | Multi-media Content Including Image Analysis and Visual Identification of People in Crowded Spaces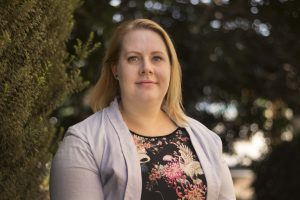 Agnes E. Venema | Multi-media Content Including Image Analysis and Visual Identification of People in Crowded Spaces
ESR08
EDUCATION: LL.M. Human Rights and Criminal Justice – Irish Centre for Human Rights, NUI Galway (Republic of Ireland)
MAIN INSTITUTION: "Mihai Viteazul" National Intelligence Academy, Bucharest (Romania)
SECONDMENT INSTITUTIONS: University of Malta (Malta)
SUPERVISOR: Prof. Dr. Irena Chiru
CO-SUPERVISOR: Prof. Dr. Joseph Cannataci
Agnes E. Venema is a Marie Curie Early Stage Researcher on the European Joint Doctorate grant "Evolving Security SciencE through Networked Technologies, Information policy And Law" (ESSENTIAL). Her research area is Intelligence and National Security, and specifically focuses on the identification of people in crowded spaces. Her host institution is the "Mihai Viteazul" National Intelligence Academy in Bucharest, Romania.
As part of her doctoral studies, Agnes Venema spent time at the Netherlands Forensic Institute and has guest lectured at the Faculty of Political, Administrative and Communication Sciences (FSPAC) of the Babeș-Bolyai University in Cluj-Napoca, Romania. She has presented her research internationally (for a complete overview, see below) and has supported research for various projects at the "Mihai Viteazul" National Intelligence Academy, including for the  Security in the Black Sea Region (SBSR) 2018 conference, a Hybrid Threats project, and for the International Association for Intelligence Education (IAFIE-Europe) 2019 conference, where she also served as a panel chair.
---
Prior to moving to Romania, Agnes Venema worked on various issues related to international security, including at the University of Essex and for various NGOs. She also worked on Security Sector Reform at the United Nations Mission in Timor-Leste (UNMIT) and participated in election monitoring for the Organization for Security and Cooperation in Europe (OSCE).
Agnes Venema holds an LL.M. degree in Human Rights and Criminal Justice from the Irish Centre for Human Rights at NUI Galway and a Bachelor degree in Liberal Arts and Sciences from University College Utrecht, where she opted for a semester abroad at the Masaryk University in Brno, Czech Republic.
Follow Agnes Venema on Twitter @gnesvenema, connect with her on LinkedIn, or contact her at agnes.venema@essentialresearch.eu.
Publications:
Agnes E. Venema and Dr. Zeno Geradts, 'Digital Forensics, Deepfakes, and the Legal Process', The SciTech Lawyer (American Bar Association), Volume 16, Number 4, Summer 2020, pp 14-23.
Agnes E. Venema, 'The Sum of All Friends: Improving Cross-border Intelligence Sharing in Europe – the Case of the Benelux', The International Journal of Intelligence, Security, and Public Affairs, 2020, 22(1), pp 5-19
https://doi.org/10.1080/23800992.2020.1744822
Research Dissemination:
"Eyes Wide Shut: The Treat of Deepfakes to National Security and Democratic Institutions"
"Constructing the bigger picture: IMINT burden sharing in Europe"
International Studies Association (ISA) 2020 Annual Convention, Honolulu, Hawaii, USA (March 2020) – CANCELLED
"Effectively addressing necessity, proportionality and legality challenges in the intelligence field – Introductory remarks"
ESSENTIALs of Security Conference, The Hague, the Netherlands (November 2019)
"The Business of Spying: The Privatisation of Surveillance Technology Development – A Transatlantic Perspective"
European Consortium for Political Research (ECPR) General Conference 2019, Wrocław, Poland (September 2019)
"When Your Eyes Deceive You: The Impact of Deepfakes on Image Analysis in Intelligence"
International Association for Intelligence Education – European Chapter Conference, Bucharest, Romania (April 2019)
"The Sum of All Friends: Identifying Good Practices in Cross-border Intelligence Sharing in Europe"
International Studies Association Annual Convention, 60th edition, Toronto, Canada (March 2019)
"Three is a Crowd: The Security Challenges of Crowded Spaces"
Intelligence in the Knowledge Society, 24th edition, Bucharest, Romania (October 2018)
"Between Friends and Familiar Strangers: The Internationalization of Intelligence"
2nd Jagiellonian Interdisciplinary Security Conference, Krakow, Poland (September 2018).